My Parkview
Welcome to My Parkview!
My Parkview uses Church Community Builder (CCB), an online tool that serves as an online community for our church, providing ways to improve communication and connection between you and others in the church as well as between you and the church office.
Login to CCB (returning users)
We offer two ways to give online at Parkview.
The first is a one-time gift to a ministry area of Parkview, or a contribution to the general fund.
If you'd like to sign up for scheduled giving at Parkview you can access your account on our online community. If you don't already have a username or password, you can click here to sign up. If you've forgotten your password, click here.
Help with Urgent Needs
Samaritan's Purse is a nondenominational evangelical Christian organization providing spiritual and physical aid to hurting people around the world.
---
Scheduled Giving Instructions
After logging in to Church Community Builder, click the Give tab.

Choose Repeating Gift > Checking Account OR Repeating Gift > Bank/Credit Card.
Fill out form and click Submit.
Because you are logged in, your contact information will fill in automatically. Add additional information as needed.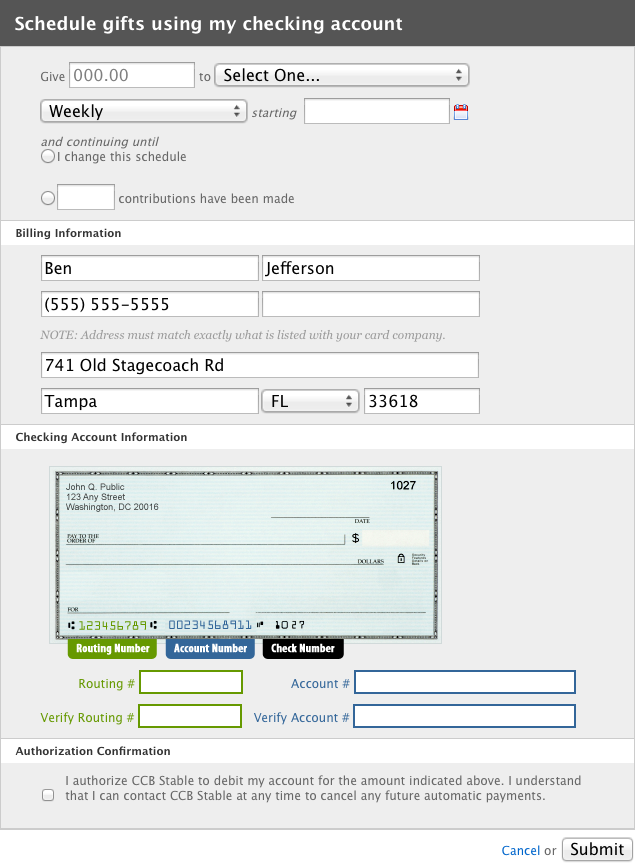 OR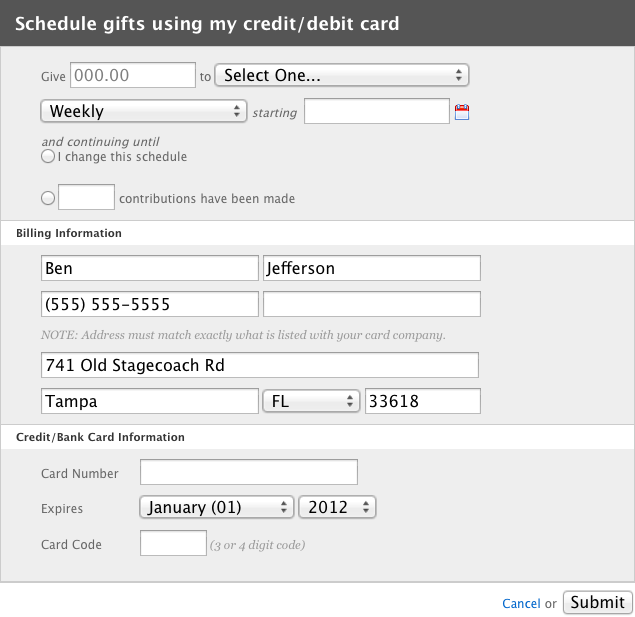 About Church Community Builder
Why do we use CCB?
We believe that belonging to a local church and sharing life with others in that setting is the best way to develop a meaningful relationship with Jesus Christ. CCB is an online tool designed to help you connect with others in the life of Parkview. CCB not only provides you information about the people and the groups at Parkview, but also allows you to view your giving records and update your contact information to make sure you receive important communication from the church.
How do I use CCB?
One of the best ways to start getting familiar with the system is to check out the CCB User Guide. This guide will give you some helpful tips for using the system and direct you to some of the most important help videos and articles. Another great way to learn CCB is to login and spend some time browsing around and checking out all the features.
Who has access to CCB?
Anyone can request to receive a login to CCB. If your email address is in our church database, you will automatically receive an email with a link to activate your account and set your password (You may want to visit the CCB User Guide to learn how to ensure that the activation email shows up in your inbox rather than your junk folder). The basic level of access to CCB will allow you to update your contact information and view your giving history. Most users who are actively involved in church life will also have access to the online church directory. In circumstances where someone is misusing the online community, the church office may restrict or block access to CCB.
Get a Username/Password for CCB (new users)
Is CCB Secure?
Church Community Builder works hard at making sure that all of your data is secure (CCB statements on security). CCB also lets you control what information you make available to others users of the online community. While it is encouraged to make more of your information available to other attenders and partners of Center Pointe for building community, you are able to opt out of the online directory completely or determine what information in your profile is visible to specific sets of people (See CCB User Guide for information on how to control your privacy settings). Furthermore, the church staff is limited to only have access to the information necessary to do their job.